Experience a completely new CNC interface, never seen before in the industry.
HYUNDAI Intelligent Control

Quick & Easy
CNC maximizing equipment efficiency
Convenient and Easy-to-Use Machine Tool, HYUNDAI WIA take operator convenience to a higher level with the new controller, HYUNDAI-iTROL. Experience the new operating environment with HYUNDAI-iTROL.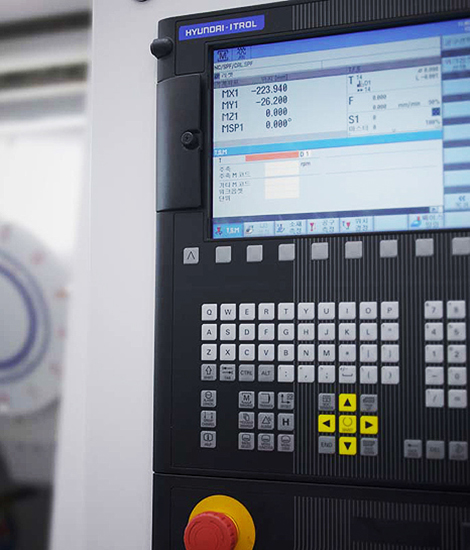 Main Functions
CNC maximizing equipment efficiency

It is guided up to machine warming up. It shows current status of the machine briefly and notifies problems of machine to operator.

QUICK & EASY Machining Support

The three essential operations for machining are program verification, tool measurement and work coordinate setup. HYUNDAI-iTROL provides three operations in consecutive order to prevent error and to enable quick and easy setup

Tool & Spindle Monitoring

Tool and spindle monitoring is simple to operate with many benefits. This helps with tool management, spindle protection and factory automation.

Displaying Present Machine Condition and Maintenance

HYUNDAI-iTROL saves data collected during machining and displays it on the screen for the operator to analyze productivity and better manage operation. Also, various screens for maintenance are provided for convenience.

Energy Saving Function(ECO) & Software for Smart Operating

Not only you can save energy, but also reduce consumables and waste.(ECO) With SMART function, cycle time can be decreased and active feed control can reduce machining time.

Remote IT Solution

HYUNDAI-iTROL provides machine monitoring and alarm notification by email and other options within in house network.
HYUNDAI WIA opens a new era of smart machines by combining machine tools, information technology, and networking capabilities.
HYUNDAI Intelligent Control

Seamless Connectivity Toward Smarter Machining
Next-generation premium CNC responding to smart factory requirements
It is available to maximize productivity through high efficiency, high precision machining,powerful networking function and eco-friendly software using HYUNDAI WIA's enhanced smart system.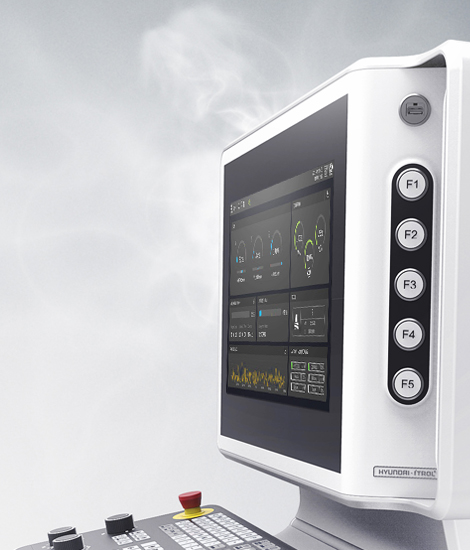 Main Functions
Multi-Touch Interface

Convenient and Easy-to-Use Machine Tool, HYUNDAI WIA take operator convenience to a higher level with the new controller, HYUNDAI-iTROL.

19 inch Multi-touch Monitor

Convenience enhanced White Grip

Quick Function Bar

Keyboard/MCP Integrated Panel that enables 40° folding

Online Working Environment

Smart Network Services, that can monitor the operating status of machining tools in the factory, can perform documentations and CAC/CAM through remote access to user PC.

Monitor the status of factory operation

Remote access to other equipment and office PCs

Intelligent Processing Management

Tool monitoring (TM), machining speed adaptive control (AFC) features are equipped as default to improve convenience, and machining accuracy is improved by balance measurement of workpiece.

Equipped with Tool Monitoring (TM) and machining speed adaptive control (AFC) features as default.

Shifted load compensation feature through balance measurement of workpiece

Smart Monitoring

It is able to check machining list and its status using Regular Maintenance App. Also, you can improve the work by analyzing the problems occurred in the past.

Check regular inspection and past work history

Check Work Order/Machining Criteria/Shape of Object/Tool List before machining

Check machining load, change of transfer speed, status of other equipment during operation
이용약관
내용이 들어가는 영역입니다.내용이 들어가는 영역입니다.내용이 들어가는 영역입니 다.내용이 들어가는 영역입니다.내용이 들어가는 영역입니다.내용이 들어가는 영역 입니다.내용이 들어가는 영역입니다.내용이 들어가는 영역입니다.내용이 들어가는 영역입니다.내용이 들어가는 영역입니다.내용이 들어가는 영역입니다.내용이 들어 가는 영역입니다.내용이 들어가는 영역입니다.내용이 들어가는 영역입니다.내용이 들어가는 영역입니다. 내용이 들어가는 영역입니다.내용이 들어가는 영역입니다.내용이 들어가는 영역입니 다.내용이 들어가는 영역입니다.내용이 들어가는 영역입니다.내용이 들어가는 영역