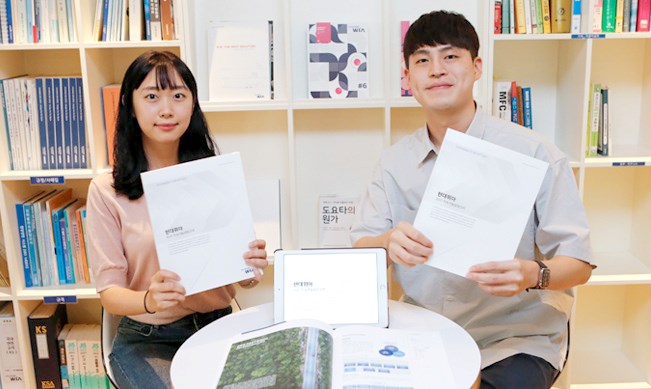 UIWANG R&D Center, July 23, 2021 - HYUNDAI WIA has released the Sustainability Report, which shares the future business vision and environmental, social, and governance (ESG) objectives.
On July 23, HYUNDAI WIA released the 2021 edition of its 'Sustainability Report' to share ESG management achievements and managerial objectives with stakeholders in a transparent manner. HYUNDAI WIA disclosed its sustainable growth target with 'eco-friendly auto-parts' and 'autonomous system and smart factory' businesses.
Detailed activities are presented in the Sustainability Report under four management pillars of ▲ extended R&D investment to generate future value ▲ expansion of eco-friendly products and services ▲ establishment of mutual growth system with partner ▲ reinforcement of CSR programs. Under these business policies, HYUNDAI WIA strives to become a market leader in the rapidly changing automobile and machinery industry.
HYUNDAI WIA will first expand its lineups for environmentally friendly automobile parts. Currently, the development of 'integrated thermal module', 'electronics·electric parts', and 'FCEV vehicle part' is in process. The integrated thermal management module, which incorporates integrated distribution·supply module and air conditioning system, is the nation's first developed electric vehicle (EV) thermal management module. The module will be set on Hyundai Motor Group's battery electric vehicle (BEV) dedicated platform 'Electric-Global Modular Platform(E-GMP)' and go into mass production from 2023.
With years' worth of know-how for manufacturing 4WD products, HYUNDAI WIA strives to develop ev-TVTC. HYUNDAI WIA has already completed the advanced development of an eco-friendly 4WD system 'integral e-axel' in 2019. A key component in FCEV when turning hydrogen into electricity, air compressor, is also being developed. Leveraging the manufacturing capability of turbochargers, HYUNDAI WIA aims to complete the development of air compressors by 2023.
HYUNDAI WIA set an objective to lead the machinery industry with Robot & Autonomous (RnA) based 'smart manufacturing and logistics solution'. In line with the production of electric vehicles, HYUNDAI WIA plans to reinforce the factory automation process by establishing a cell manufacturing system and developing manufacturing robots and autonomous driving algorithms. Furthermore, HYUNDAI WIA will provide various customized solutions to customers from every aspect by developing human-friendly collaborative robots.
HYUNDAI WIA is determined to strengthen mutual growth too. To achieve this goal, programs such as 'cash payment ratio', 'financial support such as co-prosperity fund', 'training programs to build partners ability' will be carried forward. Supplier Cooperation Team, exclusively responsible for communicating with partners, has also been established for mutual growth.
To meet the community's calls for corporates social responsibilities, HYUNDAI WIA is consolidating CSR activities. The development directions in the following four areas have been set. ▲ Climate (preservation of environment and correspondence to climate change) ▲ Mobility (improvement of mobility for socially disadvantaged) ▲ Safety (enhancement of road and social safety) ▲ Commitment (participation of employees and customers in volunteers).
HYUNDAI WIA aims to publish the Sustainability Report on an annual basis to holistically review the future business vision and ESG management performances for the sake of explicit communication with the stakeholders. "The Sustainability Report captures the details of HYUNDAI WIA's business performance and future goals. We will constantly put our best effort to achieve sustainable growth with our stakeholders", said an official of HYUNDAI WIA.
The full text of the '2021 HYUNDAI WIA Sustainability Report' can be downloaded here.