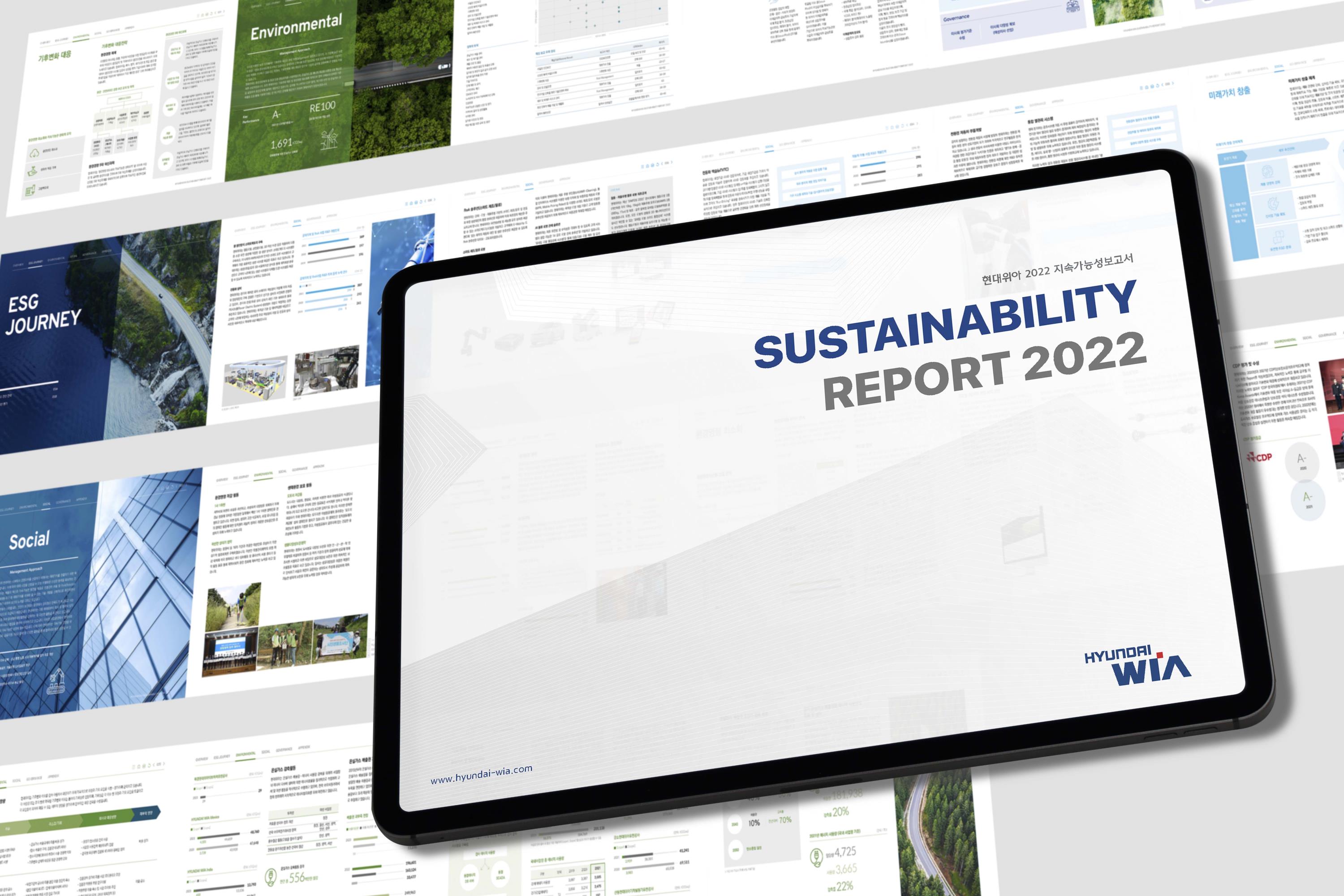 August 3 – HYUNDAI WIA has published the 'HYUNDAI WIA 2022 Sustainability Report' to fully disclose its key management performances and goals to customers and stakeholders. HYUNDAI WIA clarified the objective to minimize environmental impact and create a sustainable ecosystem to reinforce eco-friendly management. HYUNDAI WIA also presented to generate future value in 'eco-friendly auto parts' and 'RnA (robotics and autonomous) Solution'.
HYUNDAI WIA proposed 'five innovation tasks for environmental management' to respond to climate change in the report. ▲ Reduction of greenhouse gas and energy ▲ Preservation of atmospheric environment around production sites ▲ Treatment and recycling of wastewater ▲ Management of resource circulation ▲ Control of hazardous substances. HYUNDAI WIA will continue preserving the environment by following these tasks. The company also presented a mid-and long-term greenhouse gas emission reduction plan, which includes cutting the emission levels in 2021 to 40% by 2030 and 10% by 2040, and ultimately reaching net zero in 2050.
HYUNDAI WIA is actively practicing various activities to reduce greenhouse gas emissions. Currently, every domestic plant is part of the demand response in the power market. HYUNDAI WIA upgraded low-efficiency coolant pumps and installed high-efficiency water-saving machines to save total water usage. As a result, HYUNDAI WIA saved 19% more greenhouse gas emissions from the government quota and cut energy usage by 22%. The company will add these improvement results to the corporate's performance indicator and expand the purchase of eco-friendly products.
HYUNDAI WIA also revealed the development status of eco-friendly auto parts in the sustainability report. Mass production of 'integrated coolant distribution · supply module' will be manufactured from 2023, and an 'integrated thermal management system' that incorporates both cooling module and air conditioning system will be supplied to the global carmakers by 2025. With the know-how of developing and manufacturing 4WD products, HYUNDAI WIA declared to develop 'e-TVTC' to secure a future growth engine.
The report also contains plans for RnA Solution. The company plans to innovate the upcoming manufacturing industry by providing smart manufacturing and logistics solution based on control ‧ robot ‧ autonomous technology. HYUNDAI WIA is developing an 'AI logistics robot control solution' with an autonomous logistics robot and collaborative robot.
HYUNDAI WIA plans to strengthen its communication with stakeholders by annually publishing the sustainability report. "Sustainability report offers a comprehensive look at the outcomes of corporate's ESG management and future growth plans. We will persist in expanding the scope of communication to obtain sustainable growth", said an official of HYUNDAI WIA.
The full text of the 'HYUNDAI WIA 2022 Sustainability Report' is available on the corporate website.