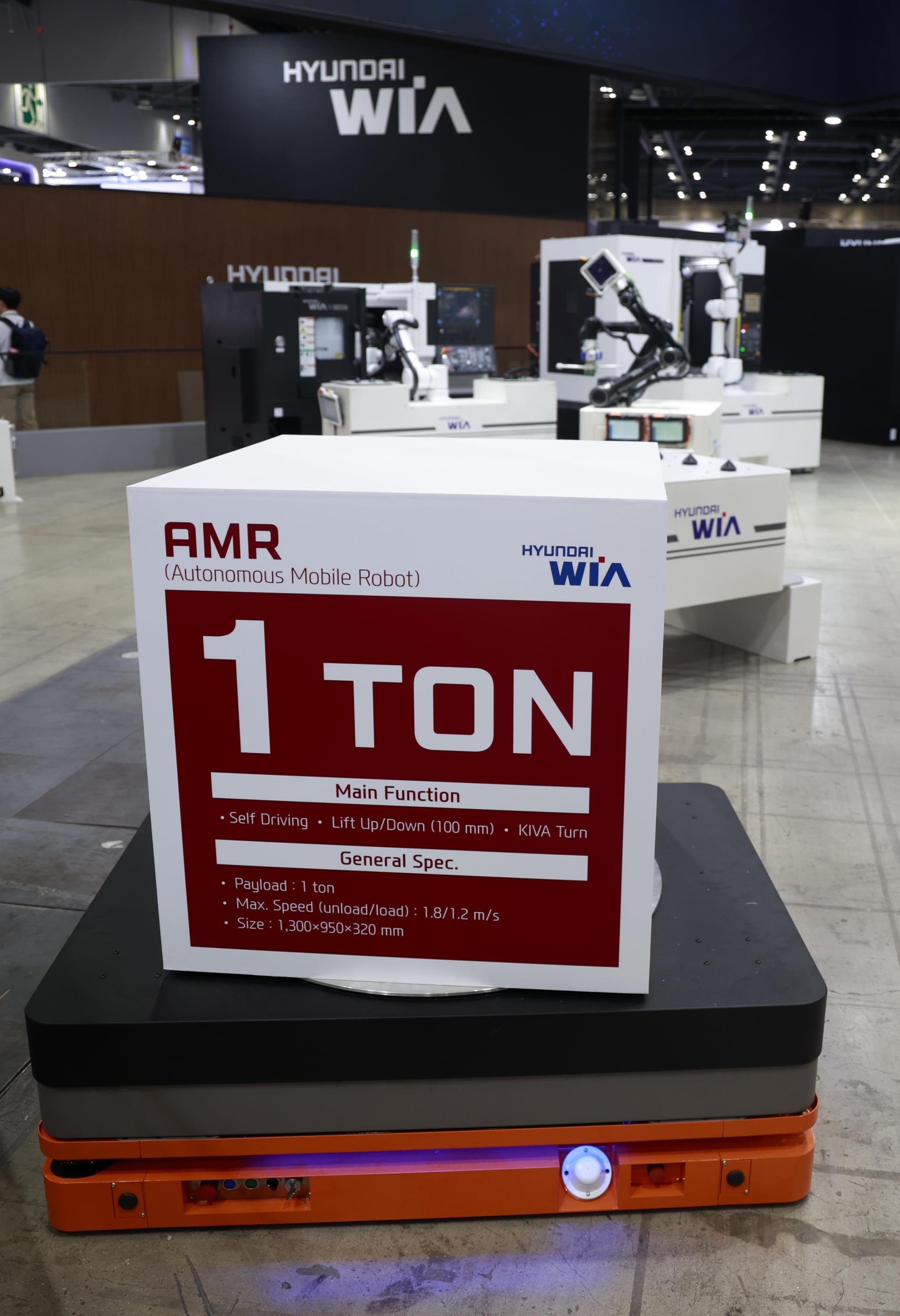 HYUNDAI WIA is commercializing logistics robots and beginning to work on the RnA business.
On the 24th, HYUNDAI WIA officially announced to commercialize Autonomous Mobile Robots (AMR) and Automated Guided Vehicles (AGV) businesses. AMRs and AGVs are robots that automatically transport goods to designated destinations. HYUNDAI WIA will supply these logistics robots to HYUNDAI MOTOR Group's EV plant, MetaPlant America (HMGMA), and HYUNDAI MOBIS plant in the U.S. from 2024.
The maximum payload of HYUNDAI WIA's commercialized logistic robots is 300kg and 1000kg each. The characteristics of these logistic robots are autonomous driving and transporting performances based on AMR technology. HYUNDAI WIA especially focused on developing the autonomous function of the AMR and allowed the robots to establish their own map of the plant's layout in real-time through lidar seasons to ultimately move around autonomously. The autonomous driving function not only comprises the ability to detect dangerous spots to develop optimal routes in the plant but also navigates the robots by themselves when facing obstacles.
HYUNDAI WIA increased the stability of the robots significantly by adding a 3D camera to the lidar sensor. The lidar sensor identifies obstacles in the first place and the camera is used for situations that the lidar cannot recognize, allowing the successful transporting of goods without any collision. HYUNDAI WIA maximized logistics efficiency by developing an 'Integrated Control System' that allows robots to identify situations and the environment of the plant and proceed with the scheduling by itself. The system was also developed to be able to respond flexibly in situations when various logistic robots operate simultaneously and even when the process or the quantities of the goods alternate.
An official from HYUNDAI WIA said, "We developed the AMR that can set its own route and transport the goods for production successfully" and added, "As it can respond to any situation in a such flexible manner, this will certainly be an innovation to the logistical sector of EV production."
HYUNDAI WIA's AGV is a robot that transports goods following the guidelines. This robot is responsible for increasing productivity by accurately moving automobiles' bodies, parts, etc. along with a set route.
Unlike the other logistics robot companies, HYUNDAI WIA plans to apply Integrated Modular Architecture (IMA) to the AGV and AMR. The firm is aiming to secure competitiveness in a rapidly growing logistics robot market and respond to customers' demands swiftly. IMA, which is being developed and applied to automobiles, is the latest development model that standardizes and modularizes core parts of vehicles to quickly meet the diverse needs of customers.
An official from HYUNDAI WIA said, "We are pleased to generate a positive outcome in the robotics field, which is a new business area. And added, "We will strive to become a leading company in robot development and smart factory solution fields in Korea through continuous research and development".