HYUNDAI WIA is committed to deeply thinking about the sustainable future and continuing clear communication.
2021 HYUNDAI WIA Sustainability Report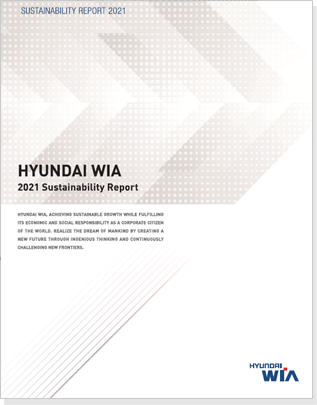 Sustainability Report Download
HYUNDAI WIA presents its sustainability report in 2021 to disclose its economic, social and environmental performance to stakeholders. Stakeholders have participated in the materiality assessment in order for their opinions to be gathered and key issues to be selected for the report. This issue of the sustainability report contains all relevant endeavors and achievements. HYUNDAI WIA will continue to publish annual sustainability reports to demonstrate our sustainability values and vision for future growth.
Sustainability Report by Year
Supplier Code of Conduct
With the recent convergence of technology, from electrification and digitization to the proliferation of mobility services, cutting-edge innovation is bringing a paradigm shift to the automobile industry. HYUNDAI WIA is adapting to this by establishing a sustainable supply chain. To this end, we have defined a Supplier Code of Conduct which requests that our suppliers comply with the rules and regulations applicable to corporate management, as well as adopt the best practices concerning ethics, the environment, labor/human rights, safety/health, and management systems. We hope our suppliers abide by this Supplier Code of Conduct to contribute to shared growth and become a company respected by society.
Ethics Charter & Code of Conduct
HYUNDAI WIA aims to be a global company that contributes to humanity's dreams with creative thinking and a relentless dive to overcome challenges. As the practice of ethical management is the keystone of such a goal, HYUNDAI WIA has amended its Ethics Charter and Code of Conduct to become a reliable partner for diverse stakeholders and increase value for our customers. All members of HYUNDAI WIA should comply with this Ethics Charter and Code of Conduct.
Human Rights Charter
In order to have HYUNDAI WIA proactively support human rights, prevent human rights violations following the operation of the business simultaneously and moderate pertinent risk, HYUNDAI WIA hereby proclaims the Charter for Human Rights. For human rights management, HYUNDAI WIA is committed to complying with a wide range of recognized human rights/labor-related international standards and guidelines, such as the Universal Declaration of Human Rights, UN Guiding Principles on Business and Human Rights and International Labor Organization Constitution and OECD Due Diligence Guidance for responsible Business Conduct, among others.