EASY MOVE
We offer the joy of free mobility
Dream Car
The Dream Car Project donates vehicles for those who are have limited mobility. Since 2013, we have provided over a hundred vehicles to local welfare centers, including special vehicles equipped with wheelchair lifts and mobile shower booths. Now, anyone can move and travel conveniently.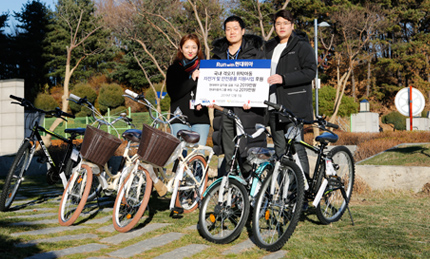 RUN with HYUNDAI WIA
RUN with HYUNDAI WIA is a social contribution program in which HYUNDAI WIA's employees and their families participate all together to support mobility. The program measures walking or running distance of employees using an app and records the points. The points are used to provide walking assistance devices or bicycles to children living in remote areas. HYUNDAI WIA will continue to support children so that they do not have any mobility-related inconvenience.
이용약관
내용이 들어가는 영역입니다.내용이 들어가는 영역입니다.내용이 들어가는 영역입니 다.내용이 들어가는 영역입니다.내용이 들어가는 영역입니다.내용이 들어가는 영역 입니다.내용이 들어가는 영역입니다.내용이 들어가는 영역입니다.내용이 들어가는 영역입니다.내용이 들어가는 영역입니다.내용이 들어가는 영역입니다.내용이 들어 가는 영역입니다.내용이 들어가는 영역입니다.내용이 들어가는 영역입니다.내용이 들어가는 영역입니다. 내용이 들어가는 영역입니다.내용이 들어가는 영역입니다.내용이 들어가는 영역입니 다.내용이 들어가는 영역입니다.내용이 들어가는 영역입니다.내용이 들어가는 영역