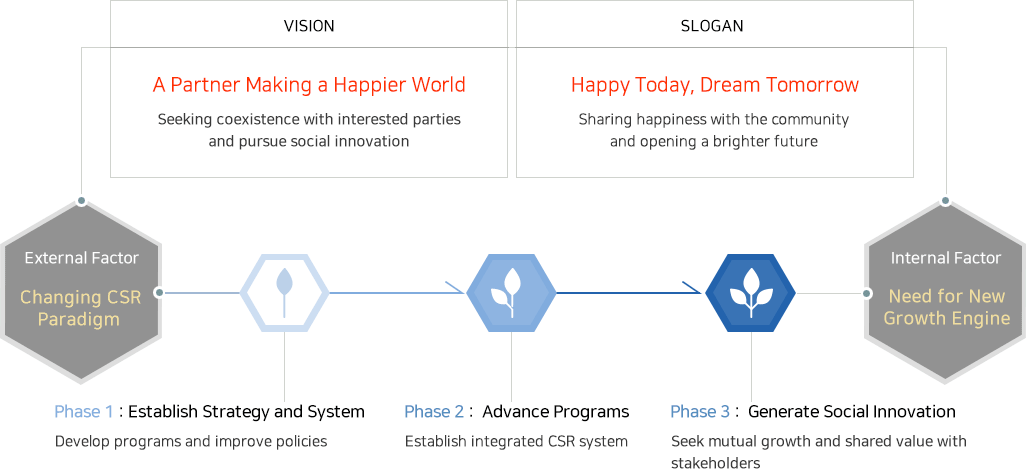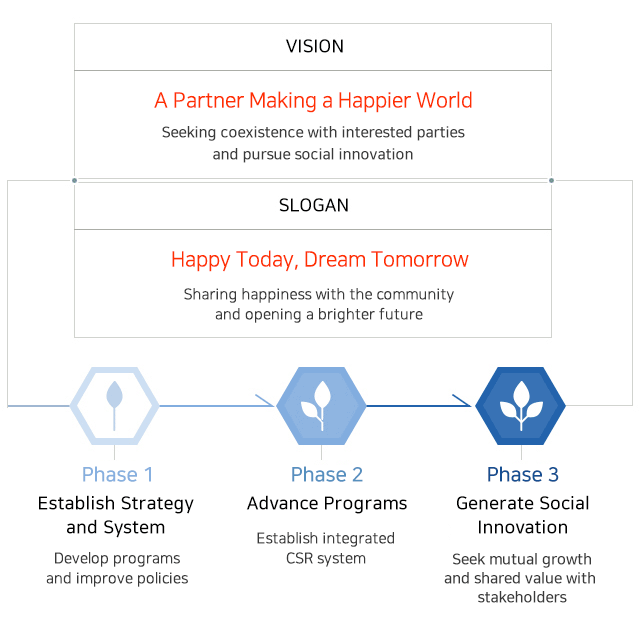 VISION

A Partner Making a Happier World
Seeking Coexistence of Interested Parties and Social Innovation
SLOGAN

Happy Today, Dream Tomorrow
Sharing happiness with the community and opening a brighter future
4 DREAM Program
TRUE Dream
EDU Dream
FUN Dream
SOCIAL Dream
External Factor Changing CSR Paradigm
Internal Factor New growth engine required
Phase 1: Establish Strategy and System Develop programs and improve policies
Phase 2 : Advance Programs Establish integrated CSR system
Phase 3 : Generate Social Innovation Seek mutual growth and shared values with interested parties
Strategic Objective
With its corporate social responsibility activities using its resources, manpower, and technical capabilities, HYUNDAI WIA is contributing to the generation of social innovation. Based on its CSR system based on its business characteristics, HYUNDAI WIA is conducting a systematic series of activities including communication with Korean and foreign local communities, mutual growth with interested parties, preemptive response to social risks, and securing future growth engines through innovation.
Communication Among Interested Parties

Improve Corporate Image and Maximize Contribution to Local Communities

Strengthen Integrated Synergy

Mutual Growth and Share Value Generation with Interested Parties

Manage Risks

Establish Management Systems in Safety, Environment, Labor, and Culture

Generate Social Innovation

Secure Future Growth Engines in Consideration of Social Impacts
Major Activities
Expand the Value of Shares

Employees and executives at HYUNDAI WIA communicates with local communities through various CSR programs. With dedicated minds of individuals, HYUNDAI WIA creates bigger values and dreams.

Foundation of Expanding Educational Capabilities

Korea can nurture the best technical capabilities in the world by fostering the children. HYUNDAI WIA actively supports the dreams of youths who want to become engineers.

A Friend for All of Us

HYUNDAI WIA seeks to be a good friend to the neighbors. Helping each other in need and celebrating together in joy, HYUNDAI WIA works together with local communities.

Giving Life to Cities

HYUNDAI WIA works to provide better environments and futures to the local communities by providing safety facilities to places that lack transportation infrastructure and repairing facilities in areas with degraded housing environments.
Symbol
Expressing the company's CSR philosophy, "World Moving Together" has the following meanings.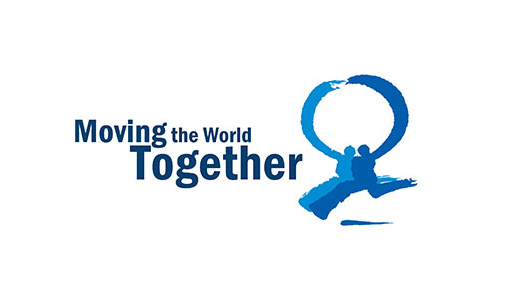 Together

Emphasizing the partnership that forms harmony with the society with a global citizen's philosophy of action

Moving

Expressing commitment to development-oriented and continuous change while reflecting the characteristics of Hyundai Motors Group

World

Aiming toward society-wide dissemination of CSR philosophy and global expansion of the beneficiaries for such activities.
이용약관
내용이 들어가는 영역입니다.내용이 들어가는 영역입니다.내용이 들어가는 영역입니 다.내용이 들어가는 영역입니다.내용이 들어가는 영역입니다.내용이 들어가는 영역 입니다.내용이 들어가는 영역입니다.내용이 들어가는 영역입니다.내용이 들어가는 영역입니다.내용이 들어가는 영역입니다.내용이 들어가는 영역입니다.내용이 들어 가는 영역입니다.내용이 들어가는 영역입니다.내용이 들어가는 영역입니다.내용이 들어가는 영역입니다. 내용이 들어가는 영역입니다.내용이 들어가는 영역입니다.내용이 들어가는 영역입니 다.내용이 들어가는 영역입니다.내용이 들어가는 영역입니다.내용이 들어가는 영역