DREAM MOVE
We pave the way to actualize dreams
Junior Technology Academy
This project provides career counseling to students who dream of being technicians but have had inadequate education opportunities. Students can visit HYUNDAI WIA's plants and R&D centers equipped with cutting-edge facilities and systems. Korea's best technical masters participate in this project as mentors of the career counseling program.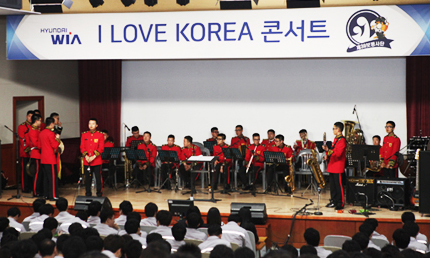 1-Company 1-Barrack Campaign
HYUNDAI WIA is a staunch supporter of the Korean Armed Forces in defending the nation's security. As one of the largest defense industry company in Korea, HYUNDAI WIA is affiliated with the 39th Homeland Infantry Division, providing the troops in that unit with opportunities for field trips that can lead to employment. Employees also regularly deliver funds and gifts to the unit to boost the troops' morale, and the company established a common disaster response system, in addition to many other activities.
이용약관
내용이 들어가는 영역입니다.내용이 들어가는 영역입니다.내용이 들어가는 영역입니 다.내용이 들어가는 영역입니다.내용이 들어가는 영역입니다.내용이 들어가는 영역 입니다.내용이 들어가는 영역입니다.내용이 들어가는 영역입니다.내용이 들어가는 영역입니다.내용이 들어가는 영역입니다.내용이 들어가는 영역입니다.내용이 들어 가는 영역입니다.내용이 들어가는 영역입니다.내용이 들어가는 영역입니다.내용이 들어가는 영역입니다. 내용이 들어가는 영역입니다.내용이 들어가는 영역입니다.내용이 들어가는 영역입니 다.내용이 들어가는 영역입니다.내용이 들어가는 영역입니다.내용이 들어가는 영역