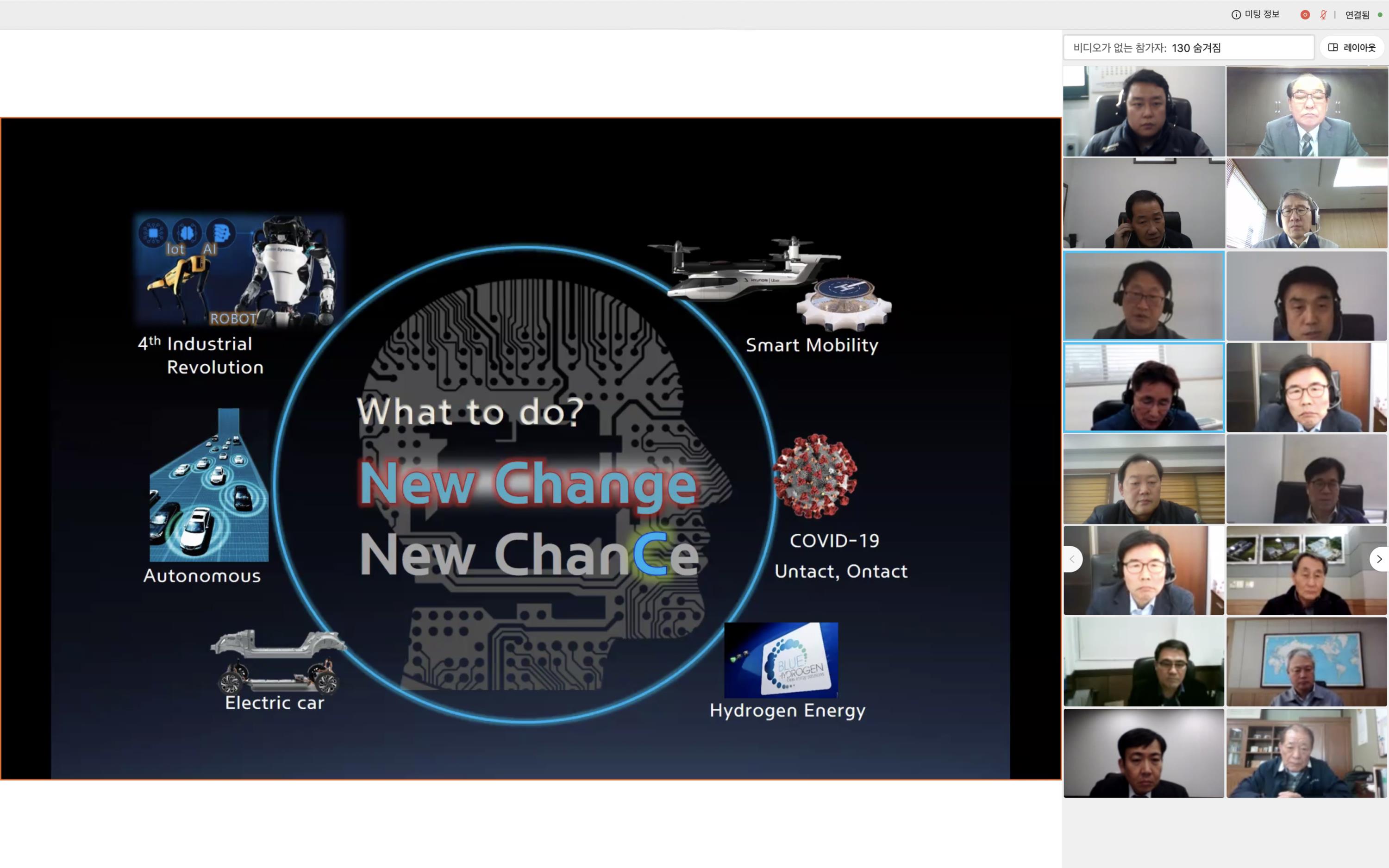 January 28, 2021 - HYUNDAIWIA declared to accelerate mutual growth management with partners and extend practical assistance.
HYUNDAI WIA held 'PartnershipDay' on January 27 and announced its plan to expand mutual growth activities in order to reach KRW 12 trillion in sales by 2030. Around 120 partnersgather at the event to share objectives and mutual growth strategies. Amid the ongoing pandemic, this year's event was fully operated in virtual format.
◆ HYUNDAI WIA to reach KRW 12 trillion sales goal with its new business plans
HYUNDAI WIA shared a future vision based on 'eco-friendly automobile parts' and 'smart manufacturing and distribution solution' businesses. Speeding up the transformation into a future mobility parts manufacturer, HYUNDAI WIA is channeling its effort into researching 'integrated thermal management system module' for eco-friendly vehicles.
HYUNDAI WIA has already successfully developed the nation's first thermal management system for EVs, 'Integrated CoolantDistribution Supply Module'. The module will go under mass production from 2023 and is confirmed to be on Hyundai Motor Group'sbattery electric vehicle (BEV) dedicated platform 'E-GMP'.
Entry to the 'air compressor' business for hydrogen fuel cell electric vehicles (FCEVs) is also confirmed. Air compressors are a key component in FCEVs to supply air used to turn hydrogen into electricity. Based on years of experience as the best automobile parts company in South Korea, HYUNDAI WIA targets to begin the production of air compressor from 2023.
HYUNDAI WIA announced to lead fundamental change in the global manufacturing industry with commercialization of 'Integrated RnA(Robotics and Autonomous) Smart Manufacturing·Distribution Solution'. Integrated RnA(Robotics and Autonomous) Smart Manufacturing·Distribution Solution turns the traditional conveyor belt system into a 'cell' system, which greatly enhances production flexibility and speed. HYUNDAI WIA is planning to apply this solution in Hyundai Motor Group's HMGICs (Hyundai Mobility GlobalInnovation Center), located in Singapore.
To implement smart manufacturing·distributionsolution, HYUNDAI WIA will develop specialized collaborative robots in the automobile industry with its own technology.  HYUNDAI WIA will also actively seek an open innovation partnership to develop AMR (Autonomous Mobile Robot) and unmanned parking robot with autonomous function. Based on these new businesses, HYUNDAI WIA aims to reach KRW 12 trillion in sales by 2030.
◆ Expanded educational and financial support for mutual growth
HYUNDAI WIA expands encompassing support for partners to preemptively keep up with the new business. Particularly to gain competitiveness in automobile parts before the mass production of thermal management systems and air compressors for FCEVs in 2023.
HYUNDAI WIA will carry out 'Software Education' to boost partner's competitiveness. Around 4 hundred million won is planned to be investigated for partner employees' development of software related technical skills. Through 'Global Partnership Center', located in Gyeongju, Gyeongsangbuk-do, professional education enhancing automobile parts quality and development will be organized.
In addition, HYUNDAI WIA aims to clean up the related systems to be a 'Value Chain Companion'. To allow partner employees to actively suggest ideas in the entire manufacturing process, suggestion process has been reformed. Additionally, as a part of 'benefit sharing system' when actual profit is achieved through a partner's idea, the profit is to be allocated at the most.
This year, HYUNDAI WIA will carry out a liquidity support program that has been implemented since last year's COVID-19 pandemic outbreak. In addition, a total of 68 billion won mutual growth fund is investigated directly to support the partners. The access to HYUNDAI WIA Corporate Partnership Mall, shopping mall that sells smaller enterprises' products at a reasonable price, has been expanded to partner employees.
HYUNDAI WIA plans to sustain its practical support for partners. "In this rapidly changing mobility industry, a company cannot grow on its own. Hence, achieving mutual growth is the key to corporate survival. We will do our best to lead the next paradigm of eco-friendly automobile parts and manufacturing industry", said a member of HYUNDAI WIA.