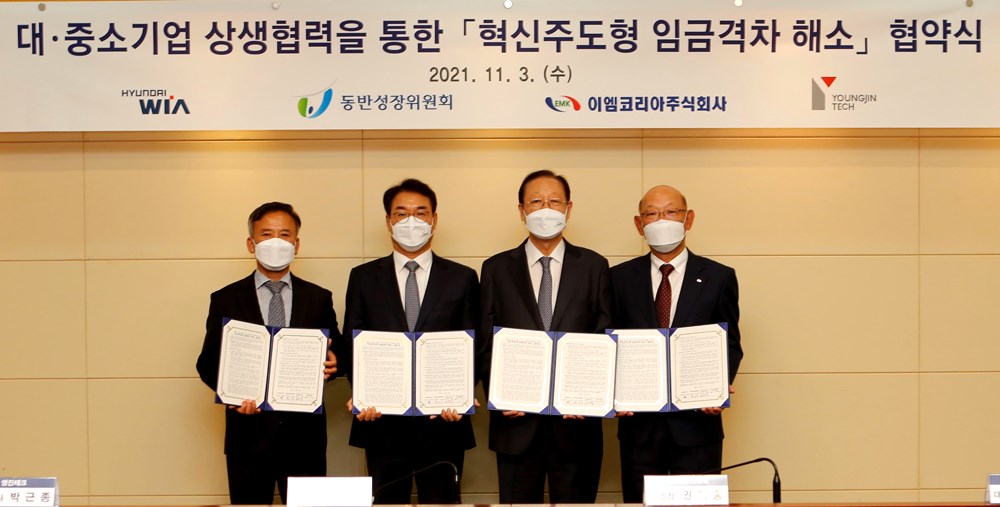 On Nov 4, HYUNDAI WIA made an 'innovative agreement to eliminate the wage gap' with the Korea Commission for Corporate Partnership in the Korea Federation of SMEs (KBIZ) located in Youngdeungpo-gu, Seoul. The two organizations will raise the technical competitiveness of medium and small partner enterprises. HYUNDAI WIA CEO Jung Jae-wook and chairman Kwon Gi-hong of the Korea Commission for Corporate Partnership attended the ceremony. EM Korea CEO Kang Sam-su and Youngjin Tech CEO Park Geun-jong also participated as partners.
Following the 'three rules on proper payments' and operating an 'innovative cooperative program to eliminate the wage gap' with the KRW 100 billion worth of investment put for three years, HYUNDAI WIA will fully support the growth of SMEs.
Specifically, HYUNDAI WIA will offer loans to SME partners undergoing financial difficulties at a low-interest rate. HYUNDAI WIA plans to give loans with a less burdensome interest rate to public financial institutions with KRW 68 billion 'mutual growth funds'. To enhance productivity and encourage partner employees, a total of KRW 30 billion incentive is provided throughout the next three years. Furthermore, KRW 1.4 billion will be invested in training programs to help partner employees obtain a higher technical skill.
HYUNDAI WIA will back up the technical development and quality assurance process of partners. Costs for facilities and equipment remediation and working environment measurement will be fully funded while securing technical data. HYUNDAI WIA will also conduct quality assurance tests and joint technology development projects.
Based on this agreement ceremony, HYUNDAI WIA strives to embed a 'mutual growth' culture within the company. "We are proud to successfully make an arrangement with Korea Commission for Corporate Partnership and promote mutual growth with partners. We will do our best to seek a win-win strategy for both our company and cooperative enterprises", an HYUNDAI WIA official said.
On the other hand, 'Silver Tower Order of Industrial Service Merit' is presented to HYUNDAI WIA (CEO Jung Jae-wook) from the Ministry of SMEs and Startups.
The award ceremony was held in the '2021 Mutual Growth Week'. The prize is the nation's highest-grade award given to the executive officer with outstanding accomplishments in the mutual growth of conglomerates and SMEs. HYUNDAI WIA CEO Jung Jae-wook received the award in recognition of devoted effort for corporative management with partners.