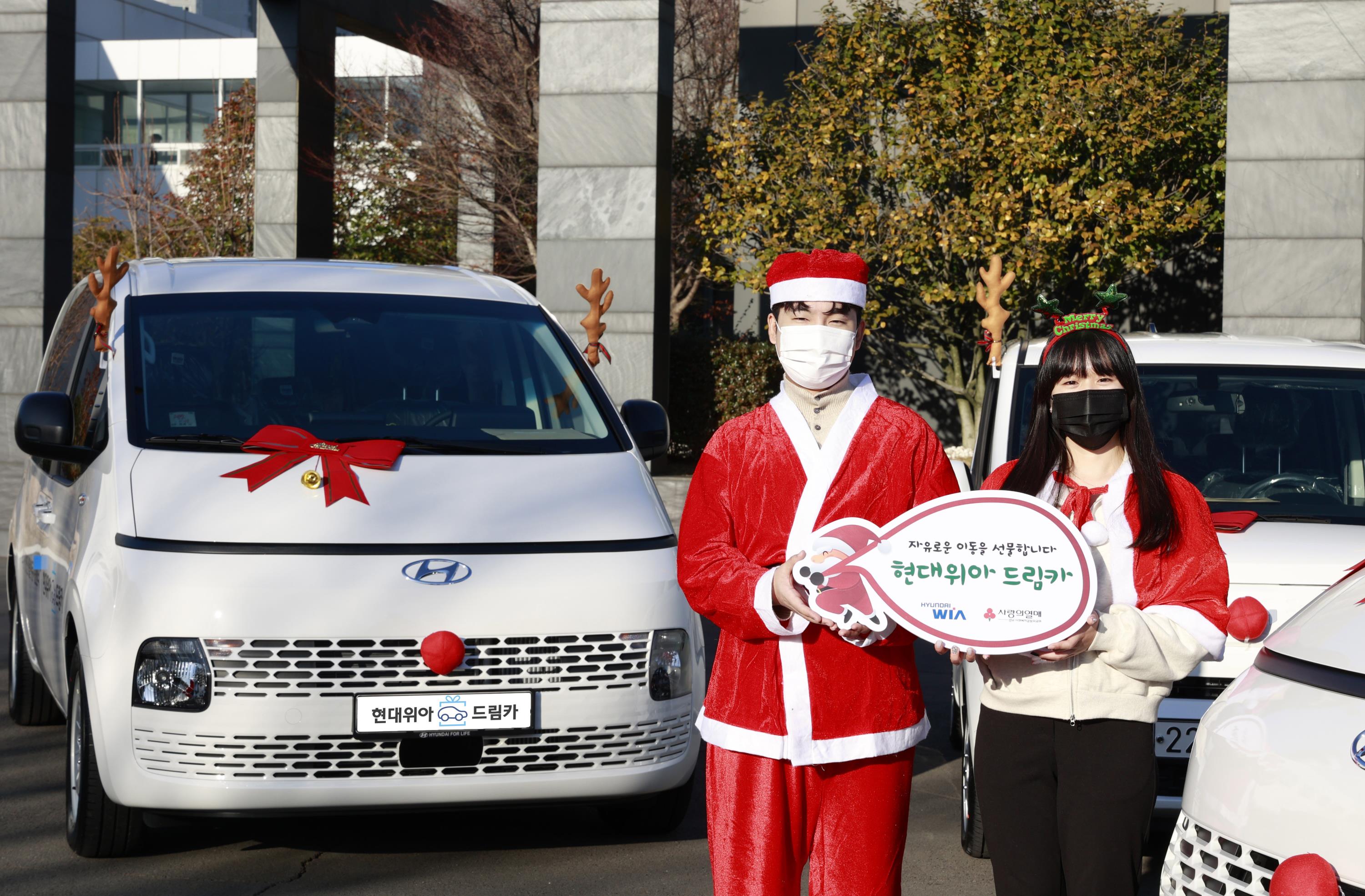 Uiwang R&D Center, December 23, 2021 – HYUNDAI WIA staff members donated automobiles to six social welfare institutions near the domestic workplaces.
On December 23, HYUNDAI WIA donated 'HYUNDAI WIA Dream Car' to six welfare institutions such as the 'Public Vocational Training Center for the Disabled' located in Changwon-si, Gyeongsangnam-do. Six welfare institutions near the company's domestic business sites in Changwon-si, Uiwang-si, Ansan ‧ Pyeongtaek-si, and Ulsan Metropolitan City received an automobile. The accumulated number of donated automobiles has reached 130 since the first ceremonial handover of Dream Car in 2013.
KRW 170 million was raised from the employee fundraising program 'the Miracle of 1%' to purchase the automobiles. 'The Miracle of 1%', one of the company's representative CSR programs, is run by staff members voluntarily donating 1% of their monthly wages to help the neighbors. Members of HYUNDAI WIA are spending the raised money to give Dream Cars and hands to local communities in need.
HYUNDAI WIA selected local welfare centers having trouble conducting welfare activities by not having a vehicle. For instance, 'The House of Sharing and Serving' in Ulsan Metropolitan City, faces difficulty giving out free lunch boxes without a car to 200 senior citizens who live alone. Also, 'Dreaming Learners with Development Disabilities' in Ansan-si, Gyeonggi Province, experienced inconvenience serving 15 daily visitors with developmental disabilities.
Aside from 'Dream Car', HYUNDAI WIA plans to diversify CSR programs for the local communities to practice ESG management. "So far, we have successfully donated 130 vehicles with employees' voluntary contributions. Helping the neighbors with the company means a lot to me. Amid virulent strain of the COVID-19, HYUNDAI WIA will continuously strive to give hope to those who are in need," said an official of HYUNDAI WIA.