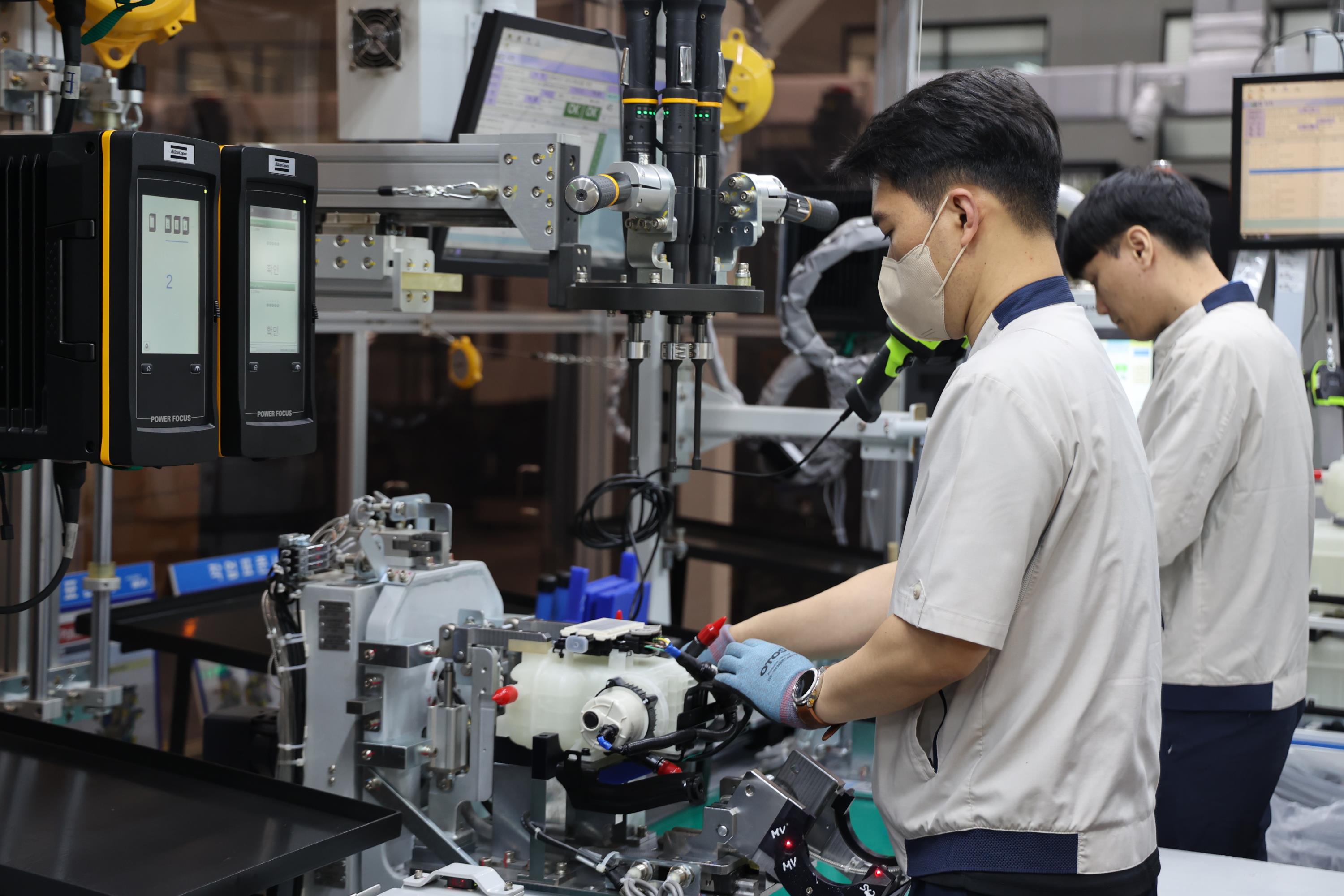 HYUNDAI WIA is entering the thermal management systems market for electric vehicles.
On May 16th, HYUNDAI WIA announced that it has completed the development and started production of the 'Coolant Hub Module', one of the thermal management systems for electric vehicles. The production will be carried out, with an annual capacity of up to 210,000 units at HYUNDAI WIA Changwon Plant 1 located in Changwon, Gyeongsangnam-do. It is the first time for an automobile parts manufacturer in South Korea to produce a coolant hub module. The coolant hub module will be installed and applied to many other vehicles including KIA's 'The Kia EV9' and Hyundai Motor's 'The All-New Kona Electric.'
The coolant hub module developed by HYUNDAI WIA is a component that helps to efficiently manage the heat of electric vehicles' batteries, driveline, and power electronics·electric motors. The module is characterized by a significant increase in efficiency by functionally integrating separate automobile parts responsible for cooling the driveline parts and the battery. HYUNDAI WIA has integrated functions such as an electric water pump, valves, and a 'reservoir tank' which helps to refuel coolant. Such integration helps to maintain the optimal temperature of the battery while managing the heat generated by the driveline parts such as motors and inverters at the right temperature.
"We successfully produced the coolant hub module based on the technology we have accumulated for a long time by mass-producing auto parts, especially the modules. With the optimized module for electric vehicles, we were able to significantly reduce the use of related parts and maximize the space utilization in the motor room," said an official from HYUNDAI WIA.
HYUNDAI WIA completed tests under harsh conditions to ensure the reliability of the coolant hub module. A total of 53 different types of evaluations were conducted during the development stage for various units such as single items, modules, and vehicles. The evaluations included the 'intermittent variable speed' and the 'thermal shock test.' These tests closely verified the circulation of coolant under various vibration and temperature conditions. In addition, 23 different types of quality verification procedures were conducted prior to the final production.
HYUNDAI WIA plans to develop an 'Integrated Thermal Management System' that incorporates motors, batteries, and cabin air conditioning in 2025, based on the mass production of the coolant hub module. To do so, HYUNDAI WIA is currently constructing a building for thermal management testing in the Uiwang R&D Center located at Uiwang City, Gyeonggi-do with a plan to complete the construction by June.
"With the mass production of the coolant hub module, we are entering the thermal management system market for electric vehicles. Based on continuous research and development, we will strive to become a competitive global company in the future mobility market," said an official from HYUNDAI WIA.