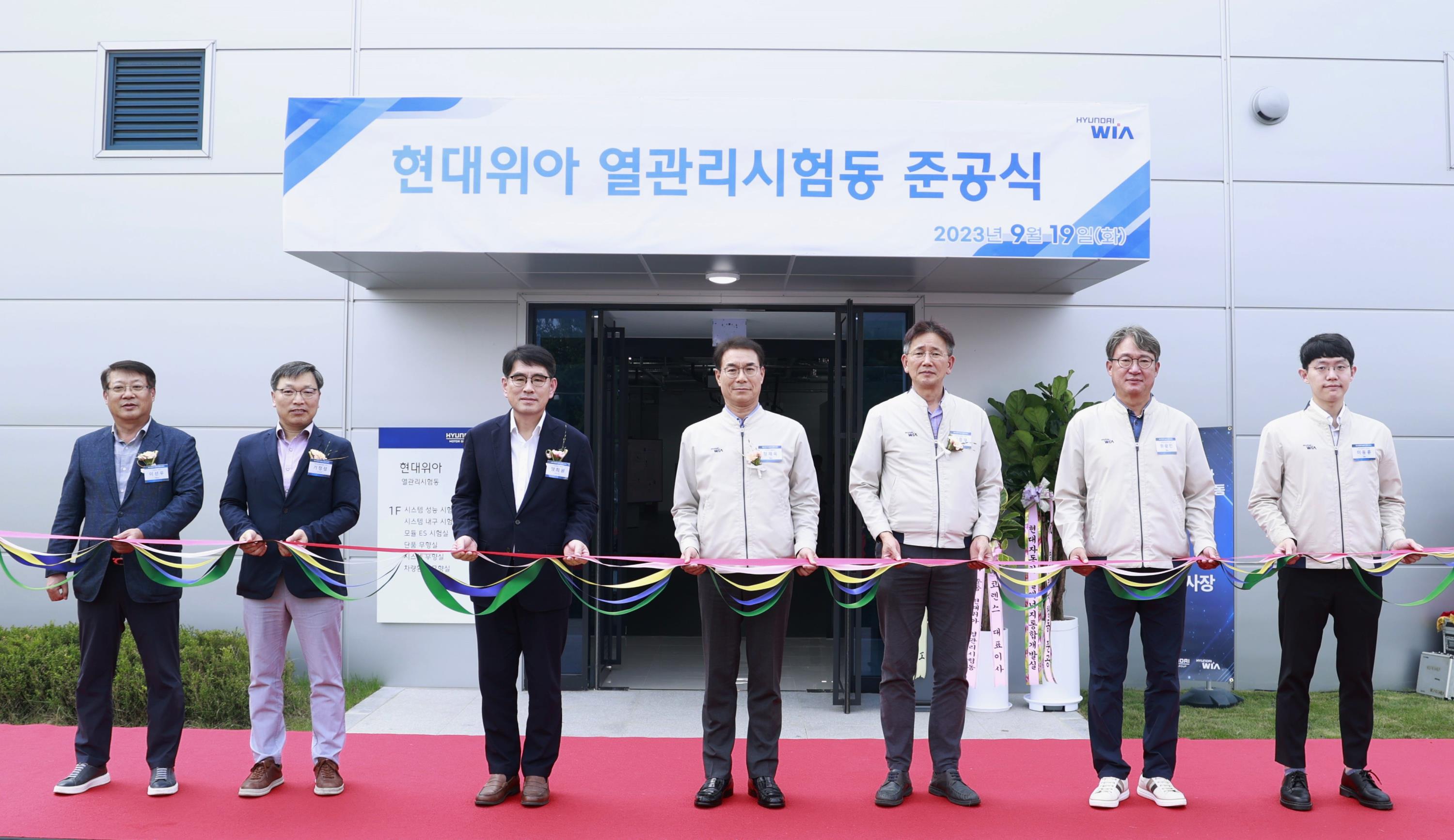 Blueprint of 'HYUNDAI WIA Thermal Management Test Center' built-in Uiwang R&D Center in Uiwang-si, Gyeonggi-do. Courtesy of HYUNDAI WIA.
On September 19th, HYUNDAI WIA held a ceremony to celebrate the completion of the 'thermal management test center' construction at Uiwang R&D Center in Uiwang-si. HYUNDAI WIA started the construction of the thermal management test center on a total ground area of 6069㎡ last November. On the day of the ceremony, HYUNDAI WIA CEO Jung Jae-wook and major officials from HYUNDAI MOTOR GROUP participated.
The performance development and durability test for the moduleᆞsystemᆞvehicle unit are held in the building. Furthermore, 50 different tests, such as the 'intermittent variable speed test' and' heat shock test,' will be conducted. HYUNDAI WIA will continue its research to build a thermal management system for future mobility successfully. It is essential for electric vehicles or future mobility to feature a complete thermal management system since they lack a heat source like an engine.
HYUNDAI WIA will also have an 'anechoic chamber for automobiles' in the newly built thermal management test center that allows verification of the actual vehicle performance in various outside environments. This chamber evaluates the thermal management system's performance under 30 degrees below and 65 degrees above zero conditions. Based on this process, HYUNDAI WIA plans to minimize the thermal management system's NVH(Noise, Vibration, Harshness).
As the thermal management test center is completed, HYUNDIA WIA will kick off accelerating ITMS(Integrated Thermal Management System) development. ITMS system encompasses motor, battery heat control and indoor air conditioning. With the aim to start the mass production of ITMS in 2025, HYUNDAI WIA will upgrade the 'Coolant DistributionᆞSupply Module,' which has been manufactured since last May, and concentrate on HVAC system research.
"Completion of thermal management test center accelerated ITMS development. We will consistently put effort to gain a competitive edge in the global mobility market in the coming future," said an official from HYUNDAI WIA.