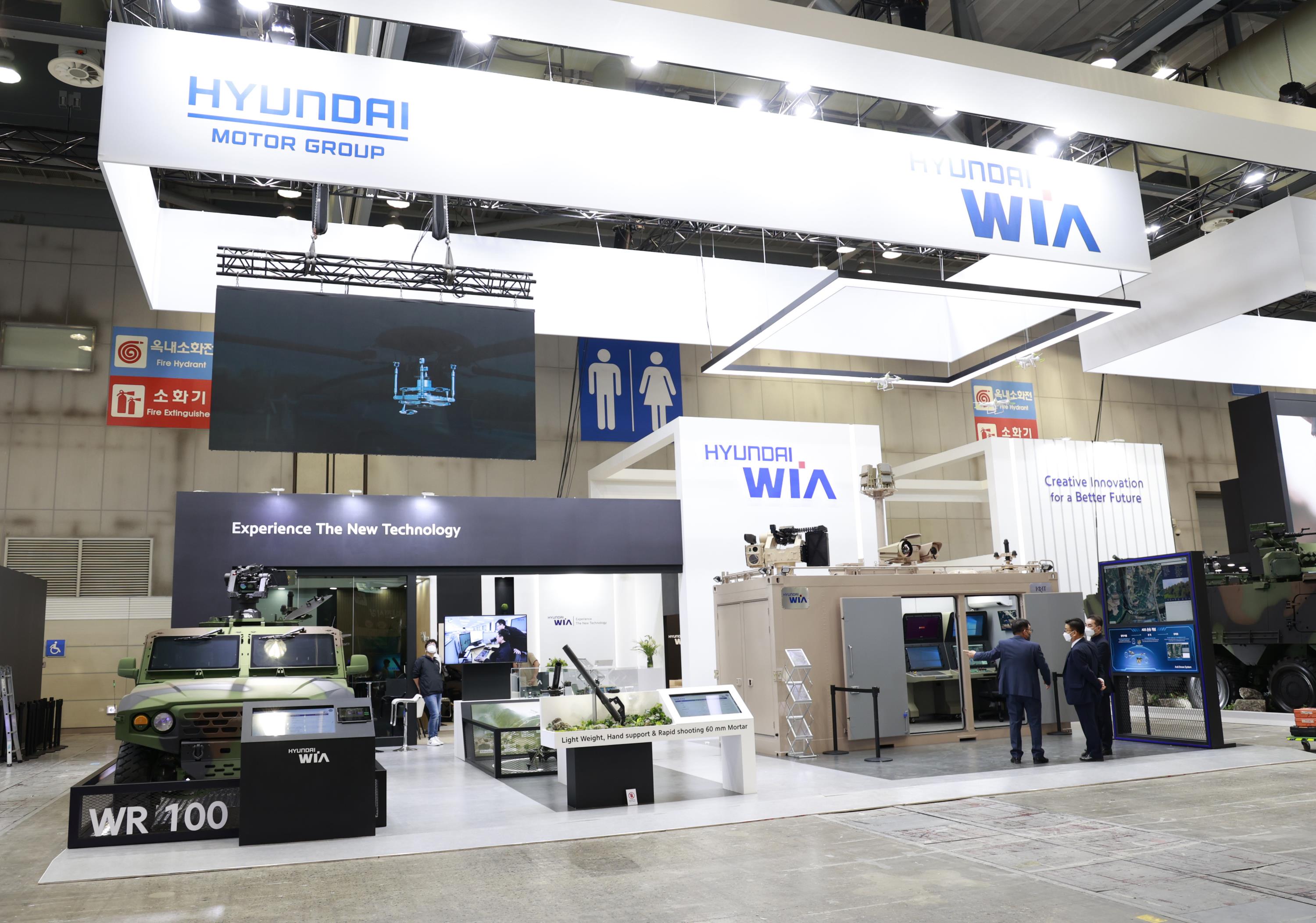 HYUNDAI WIA introduced an advanced drone defense system at the defense industry exhibition specializing in ground weapons.
September 21, 2022 – HYUNDAI WIA announced to reveal various lineup of advanced ground weapons such as ADS (Anti-Drone System), RCWS (Remote Control Weapon System), and 81mm mortar on vehicle at Defense Expo Korea 2022 (DX Korea 2022). Asia's greatest defense business networking platform will be held till the end of this month. HYUNDAI WIA participates in this year's exhibition along with KIA and HYUNDAI ROTEM as a group.
HYUNDAI WIA unveiled ADS for the first time. It incorporates both the 'Soft Kill' function that neutralizes the drones from flying with jammed signals and the 'Hard Kill' function that directly intercepts the drone. HYUNDAI WIA developed ADS to effectively respond to drones that are being frequently used as threatening weapons.
HYUNDAI WIA used radar and long-range optical monitoring devices to quickly detect and track the drone. Implementing AI software technology allowed the device to precisely identify and track drones. 40mm aerial bomb is also applied to increase the interception probability and respond to cluster drone attacks at the same time.
"We adapted radar and artificial intelligence technology, so we can always intercept the drones regardless of the drone frequency. We are keeping up the research to improve the accuracy of predicting the next step of the drone's movement", said an official of HYUNDAI WIA.
HYUNDAI WIA also showed small RCWS suitable for mid to small-sized platoons. Small RCWS is equipped with machine guns of 7.6mm or less with jammer to neutralize drones. HYUNDAI WIA is the first company to showcase RCWS that can be operated remotely using a wireless device.
HYUNDAI WIA also exhibited a miniature model for vehicle-mounted 81mm radar. It has enhanced mobility and shooting capability than the previous model and could be mounted on vehicles. The automatic heat dissipation function allows rapid shooting and could be used separately from the vehicle like a general mortar. HYUNDAI WIA plans to fully develop this mortar by 2024. Also, 60mm hand support mortar was also shown. It weighs around 7.5kg, which is easy to carry and operates like a portable mortar.
HYUNDAI WIA will continue to actively investigate the development of defense business products. "In line with the changing paradigm in the defense industry, we have successfully come up with advanced weapon systems such as ADS. We will devote more effort to not only contribute to Korea's defense power but also to promote oversea exports", said an official of HYUNDAI WIA.